7/7/7 Two Step Rack
The 7/7/7 Two Step Rack creates a massive vertical appearance with minimal product.
Features:
Profile reduces pack out and shrink versus using a flat wire rack
Abundant product look Built-in roll stop to keep product in separate compartments
Easily handles larger volume displays or double layering
Cold enhancing aluminum construction
Perforated design eliminates the need for case liner or wire racks
Rust proof anodized finish
Specifications:
All standard racks are 23.75" wide
X3239B Rack adjusts in depth from 32.5" to 36.5" overall. Uses X4237B Black Divider and Clear 42040043.
X3239SB 7/7/7 Short Rack adjusts 27" to 31" overall. Clear 42040043 Dividers are available for Short Rack version.
Added to Favorites
Dividers
000002068 & 000026857/ X4237B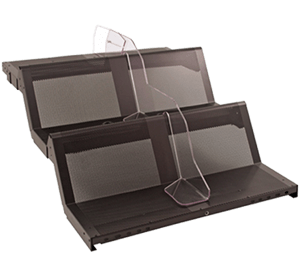 000001926 / 42040043
Added to Favorites