Organic Signage System
Present your product offerings in a unique and compelling way having a distinct advantage over competitors. Create a strong, distinguished ORGANIC presence to maximize organic sales with AirFlo's ORGANIC fences, overhead signage and more!
Highlight your ORGANIC section with custom engraving which allows for a highly visible, effective, yet clean look, to distinguish a particular area. Whether signing for organics, specialty cheese, seafood, poultry etc. you can cleanly and clearly defines these areas. We will customer engrave for all your departments.
Consult an AirFlo customer service representative
at 1-800-999-9399.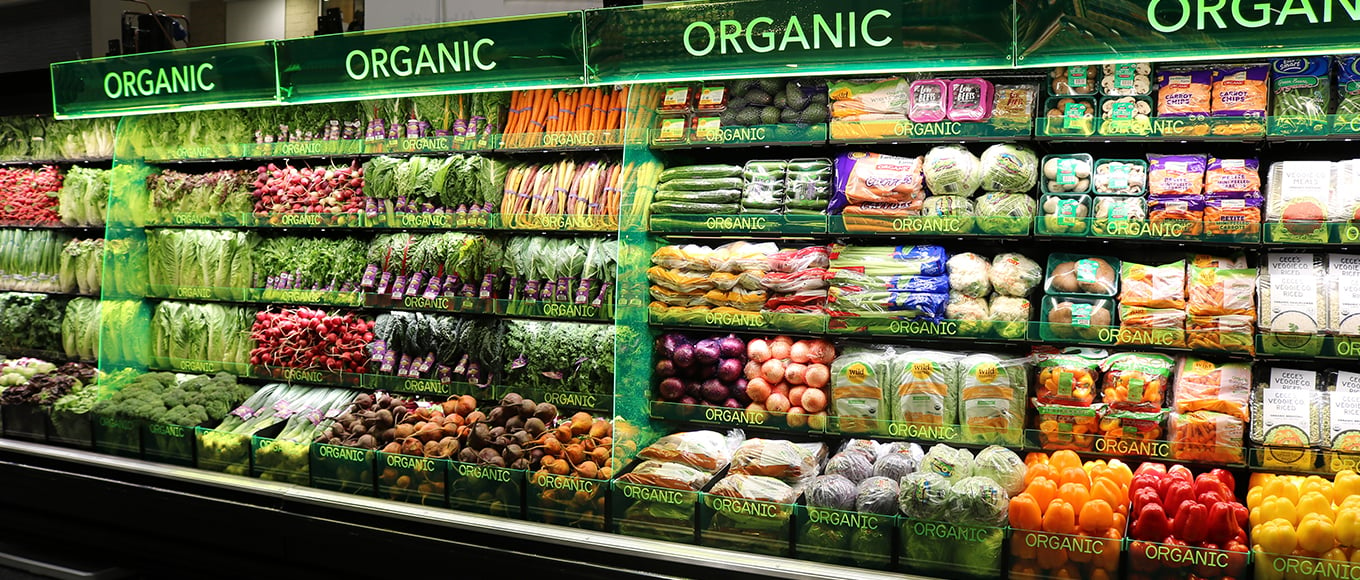 | Line | Quantity | SKU | Dimensions | Description |
| --- | --- | --- | --- | --- |
| 1 | 4 | X3207CEB/000026787 | 27"L to 35"L | Flex Flat Rack |
| 2 | 8 | 56035242/000003526 | 12"W x 22"D x 10"H | Salad Bin, Aluminum with ORGANIC Removable Fence Front |
| 3 | 1 | X59SSF48/000027231 | 48"W x 48"H | Sigma Series Frame and Brackets |
| 4 | 4 | C4A19 | 48"W x 19"D | AirBar Mount, 2" Front and Side Fences & Alignment Pin |
| 5 | 8 | C2B19 | 24"W x 19"D | Sigma Series Frame Bar Mount, Baffles, Front/Side Fences & Alignment Pin |
| 6 | 8 | 88017242/000004839 | 2"H x 24"W | AirShelf, Fluorescent Green ORGANIC Fence, Laser |
| 7 | 4 | 88017442/000004842 | 2"H x 48"W | AirShelf, Fluorescent Green ORGANIC Fence, Laser |
| 8 | 2 | 88018642/000004858 | 8"H x 3"D x 48"W | Fluorescent Green ORGANIC Laser Engraved Canopy Signage with magnets to secure |