ThinLine Perfect for Cheese Sets
Create abundant presentations allowing full view of cheese products on the shelf with no obstructions or distractions. All your customers see is your cheese product. Maximize your cheese case's vertical merchandising space by 20-25% with this low profile shelf. That is one additional shelf row per 4' section!
With the growing number of SKUs in this department, AirFlo has created a shelf to maximize your vertical merchandising space and tap into much needed additional retail space.
Another growing idea for cheese departments is to include AirFlo's ELITE Self Facer. Save's labor by continuously facing product to a saleable position. Less touching of product, safer environment for your customers!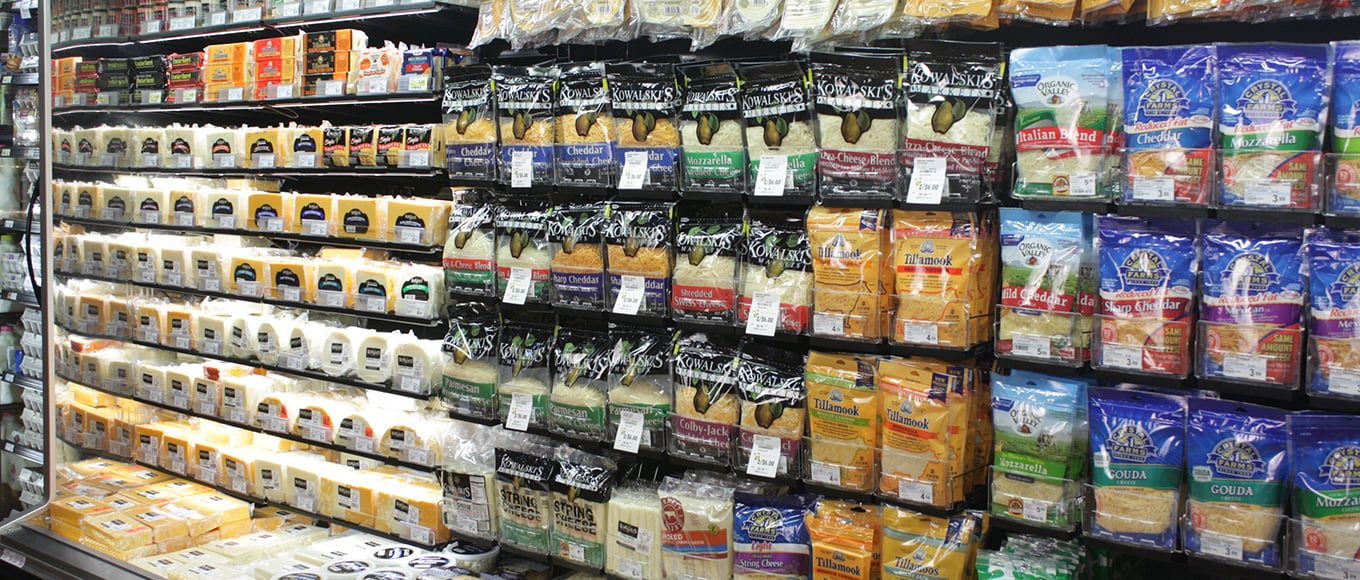 | Line | Quantity | SKU | Dimensions | Description |
| --- | --- | --- | --- | --- |
| 1 | 6 | X3207CEB/000026787 | 27"L to 35"L | Flex Flat Rack |
| 2 | 2 | X59SSF48/000027231 | 48"W x 48"H | Sigma Series Frame and Brackets |
| 3 | 16 | C2B19/000003713 | 24"W x 19"D | Sigma Series Frame Bar Mount, Baffles, Front/Side Fences & Alignment Pin |
| 4 | 64 | M00474/000016293 | 3/16' | Clip-on Single Track Clear PTM |
| 6 | 2 | X60PHMBV6B/000027250 | 6"D | 90 degree Case Wall Peg Mounting Kit |
| 7 | 2 | X60PHPTB6B/000027258 | 6"Dx 48"W | Price Tag Bar Kit |
| 8 | 8 | 250335 | .75"D x 1.5"H x 48"W | AirShelf Mounting Bar Kit |
| 9 | 56 | CEF19 | 19"D | ELITE Self Facer, Specify Fence, Tension Spring, LED light and Standard Paddle |