ORGANIC Signage for AirShelf Wet Set
AirShelfTM by AirFlo, first low profile shelf on the market. Designed with the flexibility of 0°, 10°, 20° and 30° down offering more merchandising profiles with just one shelf! Ultra sleek, ultra flexible, shelving system that becomes almost invisible. This sleek, clean profile allows the customer to see just your product, with no distractions or obstructions. Expand your merchandising space, attract more customers, sell more product.
Add the AirFlo's Fluorescent Green layered "ORGANIC" signage to differentiate from conventional produce quickly. Ideal for misted produce sections, using AirFlo's anodized aluminum design that will not rust, flake or peel.
Call 1-800-999-9399, and speak with a customer service representative today. (photo is also shown with AirFlo's fluorescent green ORGANIC ELITE LED Self Facers)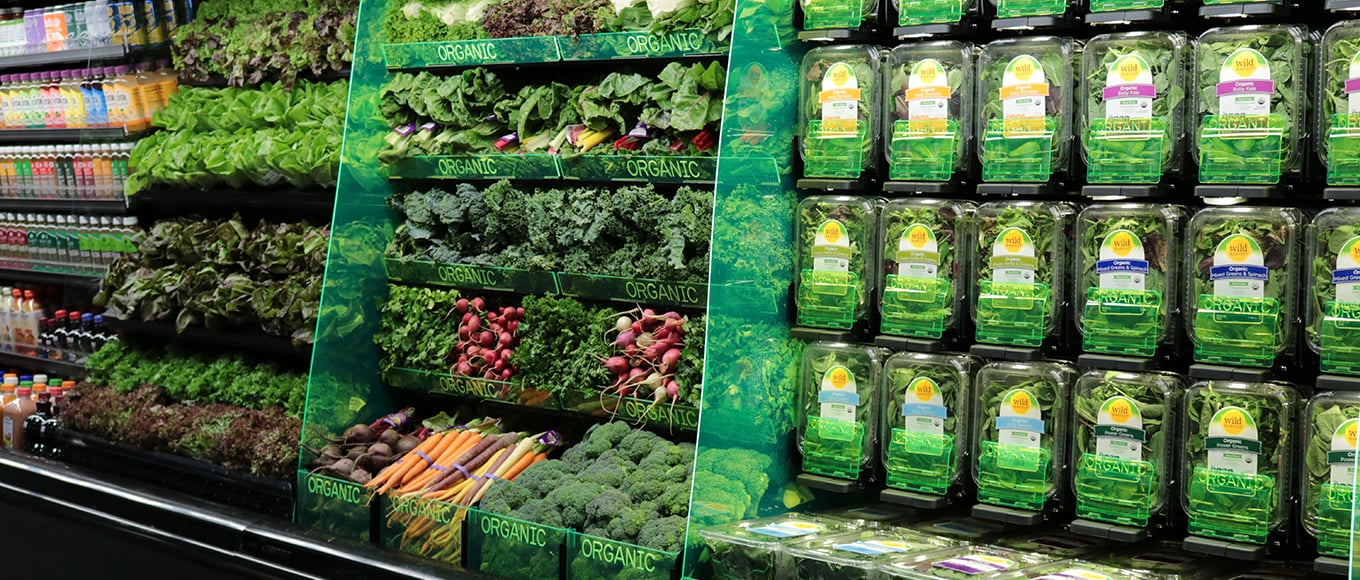 | Line | Quantity | SKU | Dimensions | Description |
| --- | --- | --- | --- | --- |
| 1 | 2 | X3207CEB | 27"L to 35"L | Flex Flat Rack |
| 2 | 4 | 56035242 / 000003526 | 22"D x 10"H x 12"W | Aluminum Salad Bin with Removable ORGANIC Front |
| 3 | 1 | X59SSF40/000027228 | 40"H x 48"W | Sigma Series Frame & Bracket Kit |
| 4 | 8 | C2B17 | 17"D x 24"W | AirShelf |
| 5 | 8 | 850384/000004587 | 2"H x 24"W | AirShelf Fluorescent Green "ORGANIC" Lasered Fence |
| 6 | 1 | Case Specific | Case Specific | Category Divider |